Hamer is the Douglass Beloved Community Decentralized Governance Platform.
Hamer is proudly named in honor of Fannie Lou Hamer an American voting and women's rights activist, community organizer, and a leader in the civil rights movement.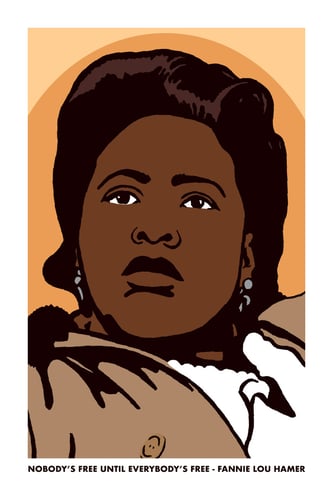 "Nobody's Free Until Everybody's Free"
Hamer is pioneering a new style of politics, creating New Political and Economic Space Now.
Hamer is the Douglass Governance platform aligned with the "Beloved Community License" and the "Beloved Community Pledge"
Enfranchisement of the Disenfranchised

With the Douglass Decentralized network and Hamer, true borderless Beloved Community Governance becomes a reality.

Powered by FreedomTrain Distributed Blockchain

Hamer is a decentralized democratic governance protocol for Beloved Community Empowerment

Community Powered Deliberative Budgeting

FreedomTrain coin integration for Community Budgeting

Liquid Democracy. Vote on issues that are important to you. Delegate power to those you trust

Own Your Data. Sign with keys only known to you and Freedomtrain the Douglass Blockchain

Borderless Community Empowerment. Participatory budgeting FT & FreedomTrain smart contracts

Coupled with FreedomTrain Hamer provides UBA and UBI Distribution and Governance

Hamer used to solicit Douglass Community for product and feature initiatives
---
When using Douglass Applications and services be mindful that you are in alignment with the Beloved Community Pledge.
The Beloved Community Pledge
    1. I recognize the humanity of the multitudes who are oppressed, persecuted, incarcerated and in struggle.
    2. I declare that violence, poverty, racism, sexism, incarceration, surveillance, militarism and environmental destruction cannot persist.
    3. I recognize that reparations and atonement are part of a needed healing process for shared humanity.
    4. I pursue a world of freedom, spirituality and fulfillment for all.
    5. I make change through nonviolence and radical love for all people and for our sacred planet.
    6. I commit to the inspired change needed to create a more humanely just and coherent future.
    7. I commit to becoming aware of those forces that seek to undermine the Beloved Community.
    8. I will use (and build) only technology which is aligned with this pledge.

The Beloved Community License is an Nonviolent Software and Hardware License that has been created out of Love, Peace, and Purpose.